Where do you start? There are so many publications, websites, tour companies and individuals who provide options, suggestions and direction on the best way to walk this ancient trail. Budget, time factor and whether you wish to freewheel it or travel with a guide are some of the major determining factors in choosing how and who you travel with.
Here are some of my favourite tools that you might like to utilize to help with both the planning and your actual time on the trail:
Favourite Books:
A pilgrims guide to the Camino De Santiago by John Brierley
Lonely Planet Phrase book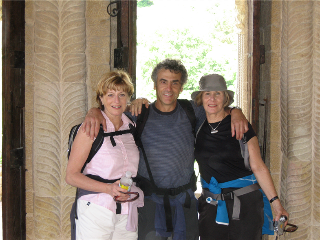 Useful websites:
www.caminodownunder.com
This website sells a fantastic set of maps that have been laminated and in 3D so perfect for any weather when walking.
www.camindesantiago.me.uk
Great general information on this site
www.chronoexpres.com
Transport options to carry your bags if you are free-wheeling it.
When choosing a tour company you need to determine what is most important to you. The size of the group, the standard of accommodation, are the guides Spanish or another nationality, the duration of the tour, inclusions such as meals, any special extras that are included that other tour companies do not offer, the amount of free time offered while on tour.
A "small tour group" walking the Camino certainly makes it more personable and easier all round. If you are lucky enough to find a fantastic guide then this is what brings that special piece of magic to your time on the Camino. The experienced guides have the respect of the locals, know how to provide surprises along the way and take all of the hassles out of walking so that you can truly embrace yourself into the history, scenery, people and gourmet delights.
Buen Camino