If you thought you might go hungry walking the trail as a pilgrim, then think again! In fact it is quite the opposite! Thank goodness for all of that walking. It means you can eat until your heart's content and believe me there are so many wonderful taste explosions and regional delicacies to experience.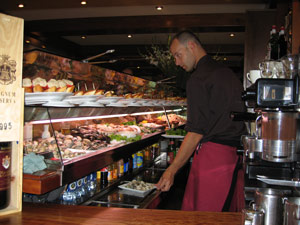 I love the simplicity in which the Spanish cook and display their food. They work with natural ingredients focusing on the freshness of the dish and seasoning.
As you meander the Asturian coastline on the "Celtic Way to Santiago", exploring tiny fishing villages tucked into the cliffs you will be served with Paella to die for, seafood dishes such as small crabs, lobster, sardines, sea barnacles and much more. Wash all of this down with a San Miguel Beer or even better still a famous glass of Cider from this region! Yes you really have died and gone to heaven! But wait there is more…how about a slice of Tarta de Santiago (Almond Tart), a cream caramel or some local cheese with honey, the list goes on. Village after village you can bar hop to taste the cider allowing it to wash down a wonderful array of small dishes tapa style, of seafood, vegetables and meats heavily seasoned with garlic, paprika, oil, lemon and salt.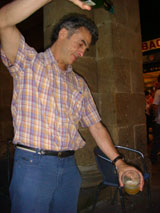 Crossing from the Asturian region we head up into the Cantabrian mountains where you will have the chance to try one of their famous dishes called a "Fabada", a very hearty stew/soup consisting of beans as the base along with meats such as chorizo sausage, pork or black pudding and seasoned with saffron. A dish that is perfect all year round especially being in the higher altitude.
Then as we drop down onto the flat again into the warmer climate you can choose from a three course menu of the day (approx 10-13.00 euro) or make up your own menu from dishes such as the conventional Spanish omelette which melts in the mouth or a Bocadilla (Spanish word for a large sandwich) filled with ham or cheese along with an ensalada made up of lettuce, tomato and onions coated in lashings of oil and vinegar. These dishes are part of the staple Spaniards diet and you never tire of them. Interlaced amongst the staple dishes you have the chance to try the likes of "Octopus" in the town of Melide at one of the Octopus houses. Dine at one of the Casas that you stay in enroute where home grown dishes of chicken, fish or meat are served straight off the land. How about some cheese from Arzua? Fondly known as "tit" cheese because of its shape.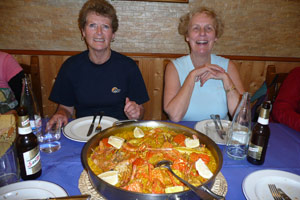 One dish I absolutely must have on arrival in Santiago de Compostela is the chocolate and churros. There are cafes and chocolerias that specialize in this dish, make sure you don't miss out!
See you will eat like a king and a queen while walking the Way of St James to Santiago de Compostela.